Kildare logs provide seasoned hardwood, stove wood and kindling firewood for sale in the Kildare area. We pride ourselves on high quality at low prices. (National delivery for kiln dried logs visit Dublinlogs.ie)
Logs for sale from Kildare logs are tested for moisture and only sold at optimum moisture levels. This provides customers with high heat long lasting firewood they are accustom to from a quality professional provider such as us.
We pride ourselves on selling local produces to the local community. Based in Calverstown just off the M9 we are able to keep transport cost down and pass that saving on to the customer. We currently don't facilitate pickups as we deliver out all our firewood orders straight to customer's doors. 
Kildare logs have a strong commitment to the environment only buying trees from well-maintained forests. We don't stop there we actively encourage recycling of packaging by giving discounts to customers who return the bags to us on next delivery.
We offer two types of firewood: Hardwood and softwood. Softwood and hardwood logs for sale are sold through netted bags, bulk bags, tonne bags and trailer loads. All firewood be it softwood or hardwood are tested with moisture meters and sold at levels of 20% apx.
Softwood heating value tonne for tonne compared to hardwood is actually greater due to its resin content. To find out more about this and all our pricing on softwood products by clicking on: Softwood Logs For Sale.
Hardwood logs are the Premium logs when it comes to burning firewood. Hardwood is denser and therefore holds more energy in a smaller area. This results in longer lasting wood that does not spark when burnt.
Hardwood logs for sale from us such as Oak, Ash and Beech are sold in large netted bags, bulk bags, tonne bags and trailer loads. For further information and prices please read our: Hardwood Logs for Sale page.
Both our softwood and hardwood are extremely well suited for stoves. Our wood has very low ash content mainly due to it being very dry which means no more emptying the ashes every five seconds. Our wood also has a very low soot content which will keep the windows of your stove clearer for longer and not clog up your stove or chimney which will reduce the chance of chimney fires. To read more on stove firewood and more please read our: Stove Firewood For Sale page.
Kindling provided by us have gone through a lengthy seasoning process to ensure our highest standards are met with moisture levels below 20%. For the full price list of our kindling for sale please visit our: Kindling for sale page.
Kildarelogs.ie provides a range of bundle deals giving discounts, while providing everything you need for that fire you desire to keep you warm for those cold winter days and nights ahead. For more information on our bundle deals please visit our: Firewood Bargains page.
We have a fully integrated ecommerce site allowing our customers to easily buy and place orders with us. You can pay with credit card or debit card on our site safely (coming soon). You can also pay with cash on delivery. To see all our firewood for sale and kindling for sale along with our other products please visit our: Firewood Shop page.
We offer many coupons and special deals throughout the year. To make sure you avail of these discounts please like, follow and share us on Facebook so you are always up-to-date with the coupons that are running at the time. You can find our Facebook page by searching for kildare logs in Facebook or by clicking this button → Facebook 
Summary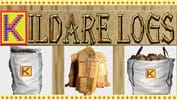 Article Name
KIldare Logs, Firewood and Logs for sale
Description
We provide high quality firewood that delivers high heat at great prices. Firewood logs for sale are available in the Kildare area, all Ireland delivery coming soon.
Author
Publisher Name
Publisher Logo